Horizontal Flammability Testing Equipment
Product Introduction
Horizontal Flammability Tester, to determine the flammability of textiles and automotive interior. Horizontal flammability tester complies with ISO 3795, ASTM D5132, FMVSS 302, etc.
Horizontal Flammability Tester, to determine the comparative burn rates and burn resistance of textiles, particularly those for automotive interior use. Horizontal flammability tester is safe and easy to operate, Comprises draft free stainless steel cabinet with observation window, sample holder and door mounted burner.
Automatic gas and timing control system including solenoid control gas valve and automatic ignition timer and controls.
Technical parameters
| | |
| --- | --- |
| Fire nozzle diameter | 9.5mm |
| Fire height | 38mm+/-2 |
| Sample clamp | 360x100mm |
| Interior Dimension | 330x50mm |
| The sample below | 25mm Pitch between metal wire is 25mm |
| Marked line | Starting point 38mm/End point 292mm from Igniting point |
| Distance from Nozzle to Sample | 19mm |
| Power | 220 /110 V 50/60 Hz 2 A |
| Weight | 18 Kg |
| Dimension for the flammability chamber | 381mm×203mm×356mm |
| Dimensions | 460×200×400 mm(LxWxH) |
Standards
ISO 3795,FMVSS 302,DIN 75200,SAE J369, ASTM D5132,JIS D1201,BSAU 1690
NOTE: This Testing Equipment is in stock.
Please review video of the Horizontal Flammability Tester operation as below link:
https://youtu.be/lsOBffM3P-A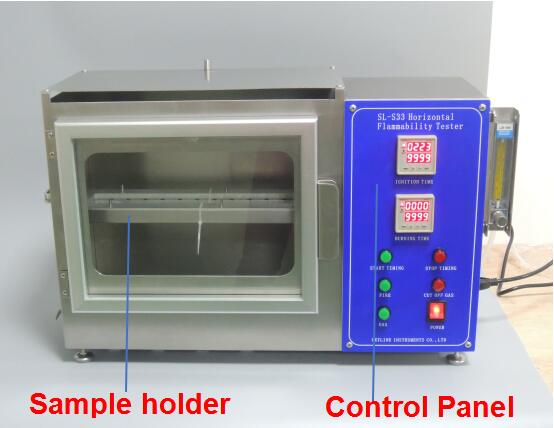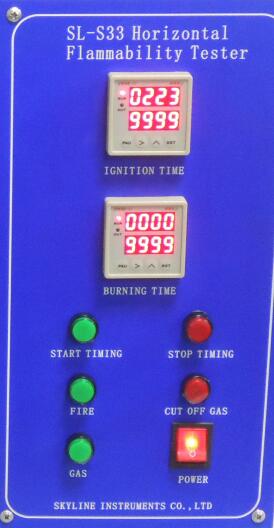 Ignition Timer:Control ignition time, factory setting 15S.
Burning Timer: The time the flame spreads from the first marking line to the second marking line, or the time when the second marking line is not extinguished.
Start Timing:The flame spreads to the first marker line and presses this button to start the timer.
Stop Timing:The flame spreads to the second marking line, press this button to burn the time timer to stop timing
Gas:When the experiment is ignited, first press this button to open the air valve, turn on the steam source, and then ignite.
Power:Instrument power switch