Mask Flame Retardant Tester​
Product Introduction
This mask flame retardant tester is developed according to GB2626 and is used to test the fire retardant performance of masks. The applicable standards are: GB2626 GB19082 GB19083 GBT32610 YY0469 YYT0969, etc.
Technical parameters
1. The mask head mold is made of metal and simulates human facial features according to the ratio of 1: 1.
2.Burner height adjustable
3.Automatic positioning timing
4. Display afterflame time
5. Equipped with flame sensor
6. Head mold moving speed : (60 ± 5) mm / s
7.Diameter of flame temperature detection needle 1.5mm
8. Flame temperature adjustment range: 750-950 ℃
9. Accuracy of afterburning time : 0.1S
10.Power source:220V 50HZ
11. Gas: propane or liquefied petroleum gas
Operation interface introduction
Test interface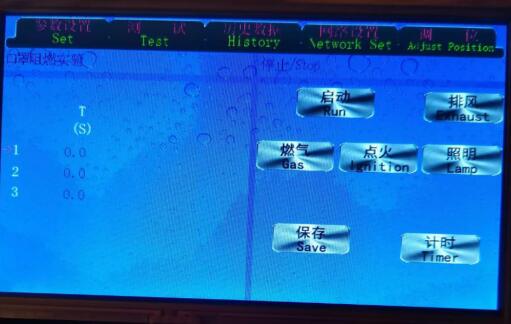 Positioning: Click on the head mold to stop above the torch to adjust the direct distance between the torch and the head mold
Run: The head mold starts to move toward the torch and stops after reaching the other position
Exhaust: open and close the exhaust fan on the box
Gas: Open and close the gas passage
Ignition: start high pressure ignition
Lamp: Turn on and off the lighting inside the box
Save: Save the test data after the test is completed
Timer: Recording the after burning time