Crockmeter Electronic
Product introduction
Electronic Crockmeter
, to determine the colour fastness of textiles to dry or wet rubbing. A pinned acrylic sample holder ensures rapid sample mounting and repeatability of results.this crockmeter Fitted with a pre-determined electronic counter for strokes up to 999,999 times
Standards GB/T3920-2008,GB/T420,GB/T5712
Technical parameters
| | |
| --- | --- |
| Rubbing head | Dia.16mm |
| Vertical pressure | 9N+/-10% |
| Rubbing stroke | 104mm |
| Rubbing speed | adjustable |
| Counter | LCD, 1-999,999times, automatically stops |
Original Accessories
AATCC rubbing clothing :10 pcs
Sand paper : 2 (pcs)
Rings : 2 (Pcs)
Dimension : 950×340×390mm(L×W×H)
Power Power : 1HP, AC220V, 50HZ, 60W
Weight : 22KG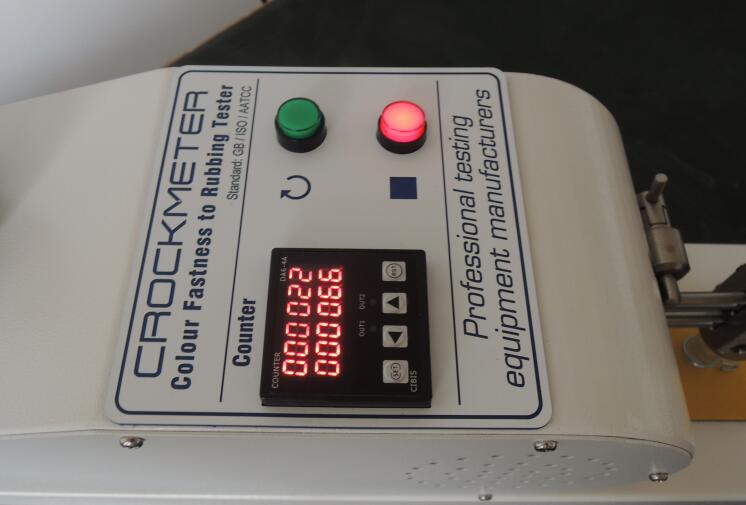 What is a Crockmeter used for?
The Crockmeter provides a quick and accurate method to determine the amount of color transferred from textile materials (such as fabric, carpeting, yarn and leather) to other surfaces by rubbing. The Crockmeter has also been employed to perform rub abrasion, scuff and / or mar tests on flat specimens.
What is Crock testing?
Crocking refers to the rubbing off of color from a fabric when subjected to abrasion. One test is the AATCC 8-2001. This "is a test method of the American Association of Textile Chemists and Colorists (AATCC). This method uses a standard white cotton fabric that is rubbed against the surface of the test fabric.